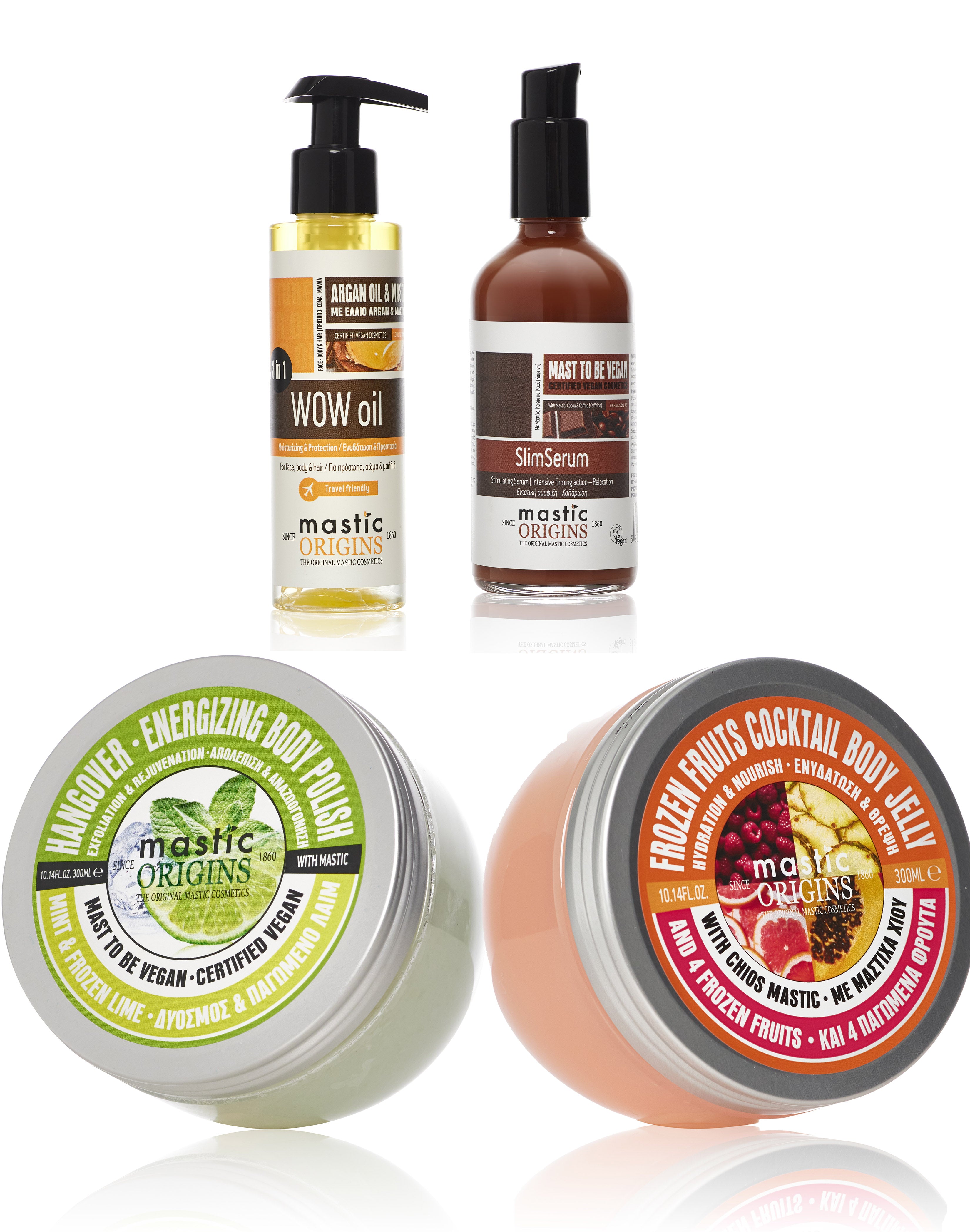 €30,15
Regular price
€60,30
2 Free Samples with Every Order
Free shipping on orders over 30€ in Greece
Description
BODY TREATMENT FOR FIRMING, EXFOLIATION, HYDRATION, AND GLOW.
HANGOVER: Start with deep exfoliation using the Body Polisher Hangover. Rich in mastic, almond oil, frozen lime, semi-coarse sea salt, and sugar, it instantly removes dead cells, provides incredible body hydration, and opens up pores for better absorption of body creams.

FROZEN FRUITS COCKTAIL: Follow up with the Frozen Fruits Cocktail. A body yogurt with 4 frozen fruits and mastic, it has a gel-like texture and rapidly hydrates the skin, providing an intense feeling of freshness.

SLIMSERUM: Preferably at night before bedtime, apply Slimserum, a chocolate serum for firming, targeting local thickness and cellulite. It contains caffeine, cocoa, iodotrat, mastic, and chestnut. These ingredients activate metabolism and reduce fat and fluid accumulation, resulting in localized thickness reduction.

WOW OIL: Finally, it's time for WOW OIL! A unique dry oil with a silky texture that restores the healthy appearance of the skin and hair. An exceptionally effective formula rich in organic essential oils and almond oil that hydrates and softens the skin from the first application, protecting it from environmental stressors. It also gives the hair exceptional shine, preventing the appearance of split ends.

Ideal for face, hair, and body
Restores the healthy appearance of the skin and hair
Hydrates from the first application
Softens and protects the skin
Provides shine to the hair and skin
Prevents the appearance of split ends.
Shipping & Returns
SHIPPING TO GREECE
Αξία παραγγελίας €0.00 – €30.00:
ACS courier (Αποστολή σε 4-5 ημέρες)
Μεταφορικά  €2.70 
Αντικαταβολή €2.00
ACS courier (Αποστολή σε 4-5 ημέρες)
Μεταφορικά ΔΩΡΕΑΝ
Αντικαταβολή €2.00
SHIPPING TO CYPRUS
We do not ship to Cyprus. Please visit www.greenostrich.com.cy
SHIPPING TO USA-CANADA
Canada, Mexico, United States
EMS-Delivery 4-6 days
Shipping cost: €39.00
SHIPPING TO REST OF THE WORLD
Standard Shipping (10-15 days)
Shipping cost: €34.90
EMS-Delivery 4-6 days
Shipping cost: €49.00
SHIPPING TO FRANCE-MONACO
Express Post- Delivery 10-15 days
Shipping Cost: €29.00
SHIPPING TO EUROPE
Standard Shipping (10-15 days)
Shipping cost: €29.00
EMS-Delivery 4-6 days
Shipping cost: €39.00
---
FEEL HAPPIER NAKED
€30,15
Regular price
€60,30