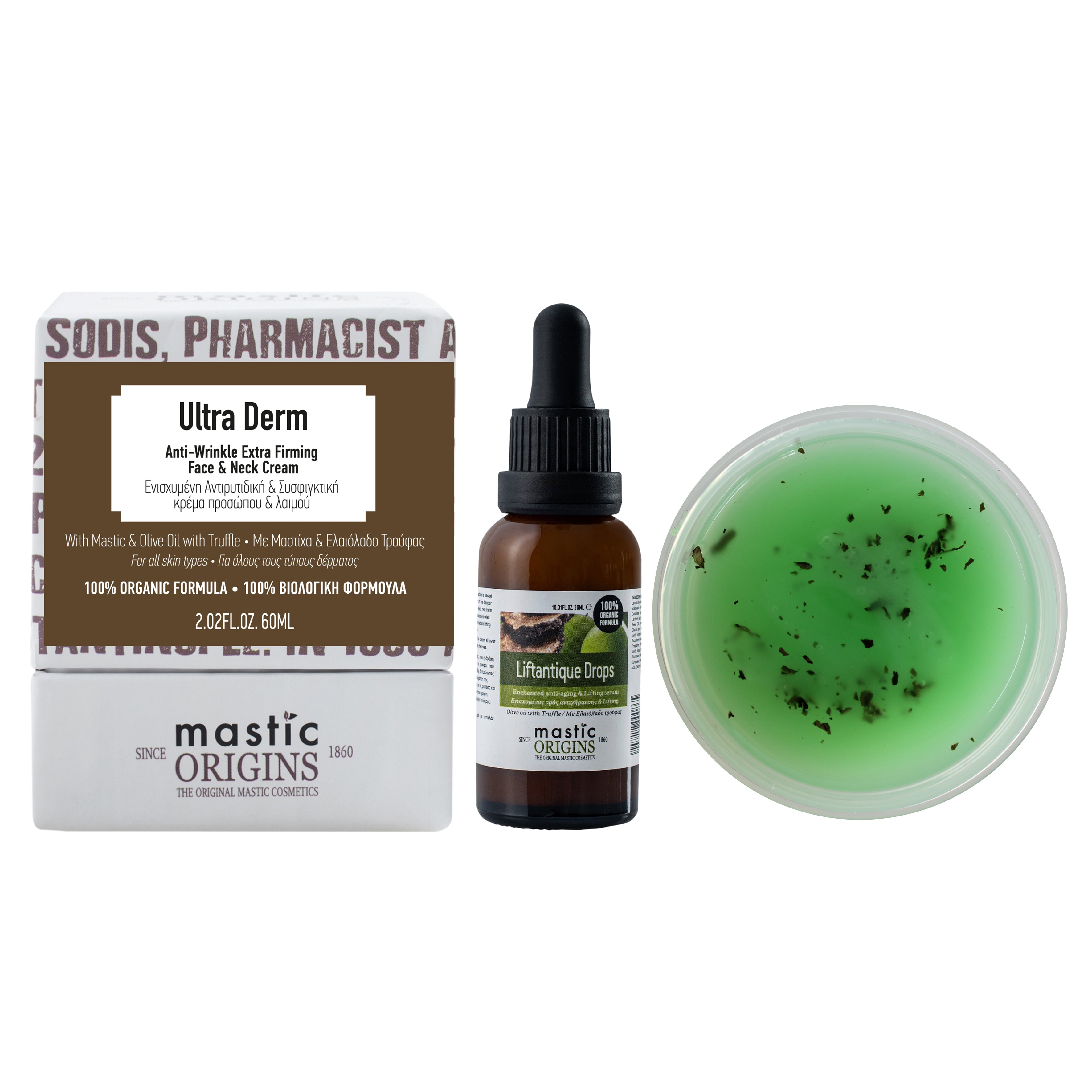 €41,86
Regular price
€64,40
2 Free Samples with Every Order
Free shipping on orders over 30€ in Greece
Description
Complete BIO treatment that includes cream, serum and mask for a clean botox effect!
Instructions for use:
First, apply Pesto Mastiha mask all over your face.
Leave it to be absorbed and after 25 'remove it as a film from your skin.
Then apply the serum Liftantique drops and in circular motions apply it all over the face and décolleté and leave it on for about 20΄.
Finally it is time for the active cream, Ultra Derm which you apply all over your face and let it be absorbed.
Shipping & Returns
SHIPPING TO GREECE
Αξία παραγγελίας €0.00 – €30.00:
ACS courier (Αποστολή σε 4-5 ημέρες)
Μεταφορικά  €2.70 
Αντικαταβολή €2.00
ACS courier (Αποστολή σε 4-5 ημέρες)
Μεταφορικά ΔΩΡΕΑΝ
Αντικαταβολή €2.00
SHIPPING TO CYPRUS
We do not ship to Cyprus. Please visit www.greenostrich.com.cy
SHIPPING TO USA-CANADA
Canada, Mexico, United States
EMS-Delivery 4-6 days
Shipping cost: €39.00
SHIPPING TO REST OF THE WORLD
Standard Shipping (10-15 days)
Shipping cost: €34.90
EMS-Delivery 4-6 days
Shipping cost: €49.00
SHIPPING TO FRANCE-MONACO
Express Post- Delivery 10-15 days
Shipping Cost: €29.00
SHIPPING TO EUROPE
Standard Shipping (10-15 days)
Shipping cost: €29.00
EMS-Delivery 4-6 days
Shipping cost: €39.00
---
BOTOX EFFECT
€41,86
Regular price
€64,40