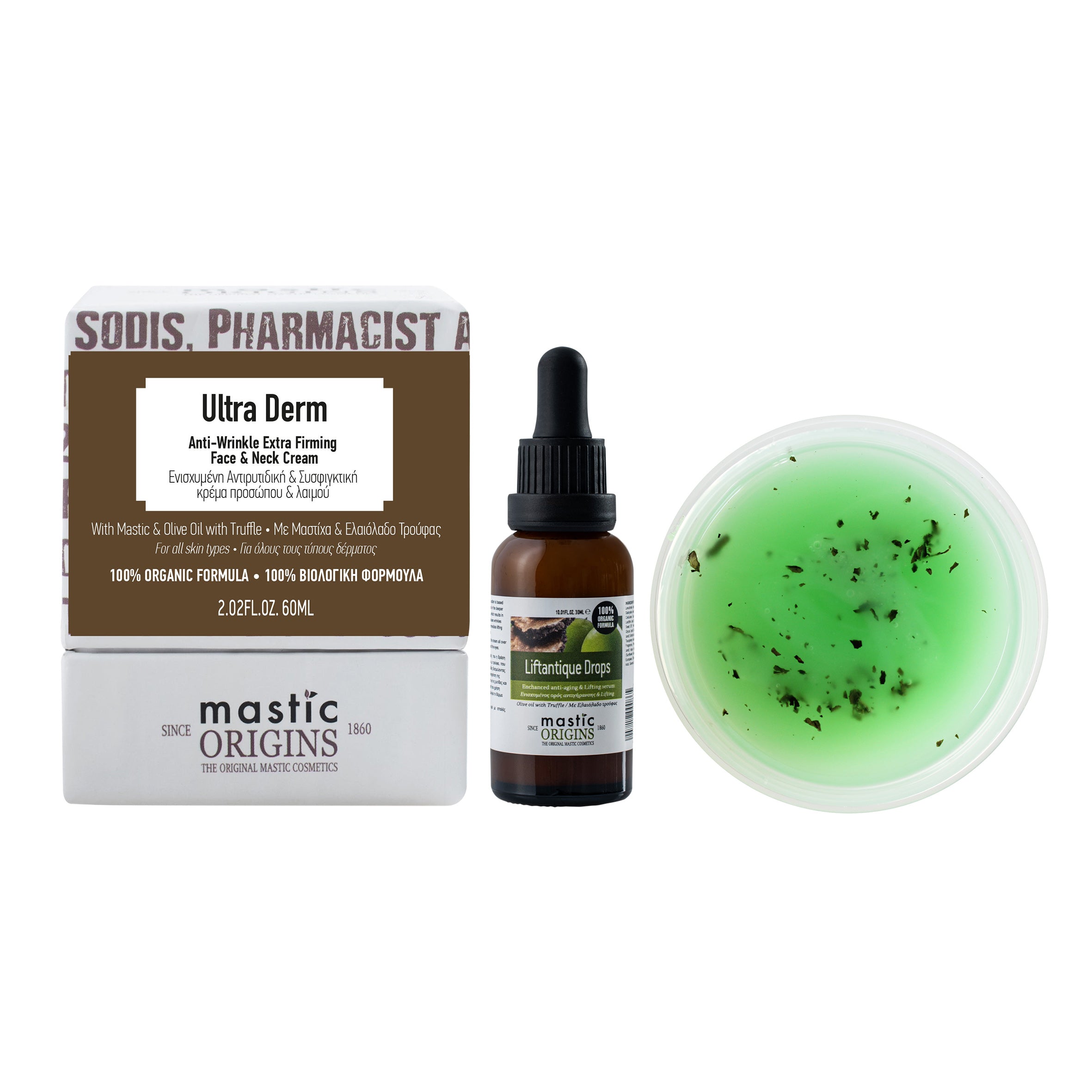 €33,82
Regular price
€61,50
2 Free Samples with Every Order
Free shipping on orders over 30€ in Greece
Description
Complete lifting treatment for immediate visible results from the very first applications.
Ultra Derm: An ultra and fast action antiwrinkle face and neck cream for the sensitive neck area. Kinetin is a plant hormone that visibly reduces skin's ageing signs. Truffle combined with olive oil offer antioxidant and moisturizing properties, while it protects and softens the skin to maintain its elasticity.
Liftantique Drops: Immediately effective and active serum whose action is based on the complex of olive oil with truffle, which acts in the deeper layers of the skin by binding free radicals, thus inhibiting the relaxation of the skin that is the cause of wrinkles and aging. skin. Its systematic use offers an immediate Lifting, while at the same time the skin is deeply hydrated.
Pesto Mastiha: Peel off mask with mastic and wild basil leaves from Parnassos forest. Gives firmness and 48-hour hydration from the very first application. Apply to face, neck and décolleté for 20 minutes and remove as a film.
Instructions for use:
First, apply the Pesto Mastiha mask all over your face and décolleté.
Leave it to be absorbed and after 25 'remove it as a film from your skin.
Shipping & Returns
SHIPPING TO GREECE
Αξία παραγγελίας €0.00 – €30.00:
ACS courier (Αποστολή σε 4-5 ημέρες)
Μεταφορικά  €2.70 
Αντικαταβολή €2.00
ACS courier (Αποστολή σε 4-5 ημέρες)
Μεταφορικά ΔΩΡΕΑΝ
Αντικαταβολή €2.00
SHIPPING TO CYPRUS
We do not ship to Cyprus. Please visit www.greenostrich.com.cy
SHIPPING TO USA-CANADA
Canada, Mexico, United States
EMS-Delivery 4-6 days
Shipping cost: €39.00
SHIPPING TO REST OF THE WORLD
Standard Shipping (10-15 days)
Shipping cost: €34.90
EMS-Delivery 4-6 days
Shipping cost: €49.00
SHIPPING TO FRANCE-MONACO
Express Post- Delivery 10-15 days
Shipping Cost: €29.00
SHIPPING TO EUROPE
Standard Shipping (10-15 days)
Shipping cost: €29.00
EMS-Delivery 4-6 days
Shipping cost: €39.00
---
LIFTING SET
€33,82
Regular price
€61,50